Working hard is the basis. Working on the right things the key to success. Goalie Action guides and inspires the athlete to make most of his or her talent.
Acquiring good habits:
Internalize processes to gain effective reflexes and actions that enable you to reach consistency and long-term success.
Perfecting the technique:
Work diligently on the butterfly style and implement latest knowledge of effective goaltending.
Enhancing the pro attitude:
As a goalie you are a designated leader of your team. Know how to positively influence your team not only during the game. Go the extra mile on and off ice. Be aware of your power and what makes the difference between a good and a great goalie.
Mastering the details:
Analyze your game by video and advanced statistic tools to figure out the little yet crucial things that make the difference.
Living the passion:
Experience – enthusiasm – patience – sharing the passion …  that's Reto Schurch's Goalie Action.

Goalie Action Staff
All members of the staff are an important part for the success of our camps. Our staff consists of experienced on- and off ice coaches, demonstration goalies and helpers to take care of the participants during the whole stay at the camp.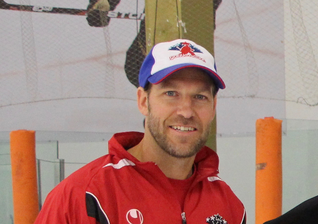 Reto Schurch
Born 1975 in Switzerland, speaks German, English and French

Former pro goalie for 15 years mainly in Switzerland, Sweden and the U.S.

Butterfly and hybride technique expert, educated by François Allaire himself

Operating hockey camps for over 15 years together with NHL Stanley cup winners Martin Gerber (CH) and David Aebischer (CH)

Foundation of Goalie Action and conducting of goalie and summer camps in California since 2011

Goalie and video coach of the Swiss Men's National Hockey Team 2014-16

Goalie and video coach of Swiss National League teams since 2011
Swiss Champion with SC Bern 2015-16 and 2016-2017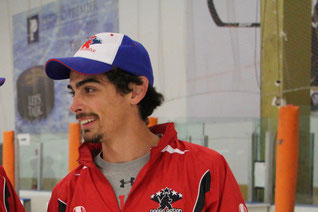 ARTT BREY
Born 1994 in Yorba Linda, CA

Former youth goalie at OC Hockey Club, Yorba Linda

Butterfly and hybride technique expert, educated by Reto Schurch

Working with Goalie Action since 2011

USHL Clark Cup Champion 2012-13, Dubuque Fighting Saints and 2013-14, Sioux Falls Stampede

Played St. Lawrence Univ. NCAA

Currently playing for Adirondack Thunder ECHL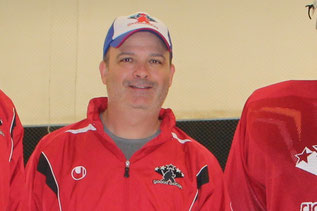 Lock Corley
Born 1971 in Vancouver, CAN

Moved from Canada to Southern California in 2013

Played Jr. Hockey 1987-1991 BCHL and PIJHL

1986 Calgary Midget AAA Top Goaltender Award

Coaching goalies for 23 years

Scouts for Coquitlam Express in the BCHL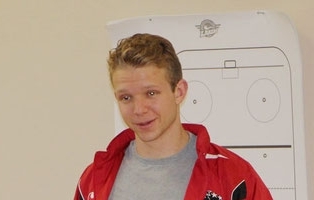 Collin Delia
Born 1994 in Rancho Cucamonga, CA 

Former youth goalie at the OC Hockey Club, Yorba Linda

Butterfly and hybride technique expert, educated by Reto Schurch

Working with Goalie Action since 2011

NAHL Robertson Cup Champion 2012-13, NCAA Goaltender of the Year 2016-17, 

Plays with the Chicago Blackhawks NHL, Rockford IceHogs AHL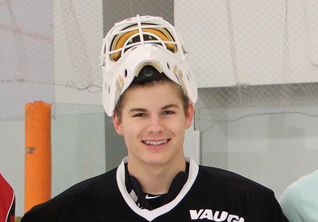 Sean Lincoln
Born 1996 in Rancho Santa Margarita, CA
Butterfly and hybride technique expert, educated by Reto Schurch
Working with Goalie Action since 2011
NHPHL 18U Best SVS%  and GAA 2014-15, EHL (North) First All-Star Team 2016-17
Plays with SUNY-Brockport NCAA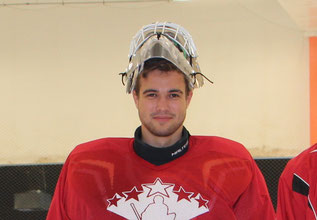 Even Plotnik
Born 1997 in Capistrano Beach, CA

Butterfly and hybride technique expert, educated by Reto Schurch

Working with Goalie Action since 2011

SJHL Champion 2015-16

Plays with American International College NCAA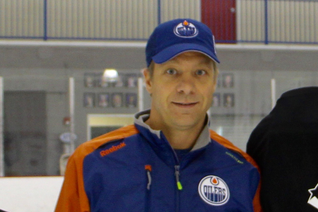 Sylvain Rodrigue
Born 1973 in Montréal, CAN

Guest Coach at the Pro Camp 2016

Former pro goalie

Goaltending Coach Edmonton Oilers

Guest coach at the Pro Camp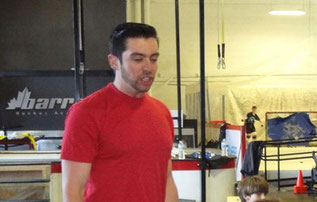 Chris Martin
Strength & Conditioning Coach since 2005

Owner and Head Coach of Mettle Strength and Conditioning 

Asst. strength & conditioning coach for the Anaheim Ducks (NHL)

Works with Goalie Action goalies since the first camp in California
Goalies who train/trained with Goalie Action:
JOEL AEBI (SUI), NLA (1st. Div. Switzerland) - SC Bern
DAVID AEBISCHER (SUI), NLA (1st Div. Switzerland) - Rapperswil-Jona Lakers, retired
SOPHIE ANTHAMATTEN (SUI), Men's 3rd Div. Switzerland - Saastal
RETO BERRA (SUI), NHL - Colorado Avalanche
ARTHUR BREY (USA), NCAA - St. Lawrence University
MARCO BÜHRER (SUI), NLA (1st Div. Switzerland) - SC Bern
Eric Comrie (CAN), AHL - Manitoba Moose
BENJAMIN CONZ (SUI), NLA (1st Div. Switzerland) - HC Fribourg-Gottéron
COLLIN DELIA (USA), NHL - Chicago Blackhawks
MARC EICHMANN (SUI), NLB (2nd Div. Switzerland) - SC Langenthal
VICTOR FASTH (SWE), KHL - CSKA Moskva
LEONARDO GENONI (SUI), NLA (1st Div. Switzerland) - SC Bern
JONAS HILLER (SUI), NHL - Calgary Flames
JOHN KEENEY (USA), NCAA - Univ. of Alaska-Fairbanks
DANIEL MANZATO (SUI), NLA (1st Div Switzerland) - HC Lugano
ROBERT MAYER (SUI), NLA (1st Div Switzerland) - Genève-Servette HC
RYAN MILLER (USA), NHL - Vancouver Canucks
JONAS MÜLLER (SUI), NLA (1st Div. Switzerland) - Kloten Flyers, retired
AARON NELSON (USA), NHAL - Minnesota State Univ. Mankato
GARRETT NIETO (USA), BCHL - Wenatchee Wild
GAVIN NIETO (USA), NCAA - Brown University
JÜRGEN PENKER (AUT), NLA (1st Div. Switzerland) - Rapperswil-Jona Lakers, retired
JUSTIN POGGE (CAN), Eliteserie (1st Div. Sweden) - Färjestad BK
IVARS PUNNENOVS (LAT), NLA (1st Div Switzerland) - SCL Tigers
DENNIS SAIKKONEN (SUI), Mestis (Finland) - JYP-Akatemia
FLORENCE SCHELLING (SUI), Riksserien (Women Sweden) - Linköping
JANICK SCHWENDENER (SUI), NLA (1st Div. Switzerland) - SC Bern
TOMAS SHOLL (USA), NCAA - Bowling Green State University
Jakub Stepanek (CZE), NLA (1st Div. Switzerland - SC Bern
TOBIAS STEPHAN (SUI), NLA (1st Div. Switzerland) - EV Zug
JAKE WILLIAMS (CAN), NCAA - Salve Regina University, retired
TIM WOLF (SUI), NLA (1st Div. Switzerland) - HC Ambri-Piotta
SANDRO ZURKIRCHEN (SUI), NLA (1st Div. Switzerland) - HC Ambri-Piotta
"Following his outstanding career as an athlete, Reto has served the ice hockey community through dedicated and extraordinary instruction in hockey goaltending. He is one of only a handful of goalie coaches who boasts such a depth of expertise in the butterfly style of goaltending."
Francois Allaire, Colorado Avalanche, Goaltending Coach
"I met Reto during the look-out season in 2004, when we played together in Switzerland. Reto is truly an ice hockey goalie coach of distinguished reputation and extraordinary ability. He was already a goalie with special skills in the butterfly style as well an innovative goalie during his played."
Martin Gelinas, Assistant Coach, Calgary Flames

"I met Reto while skating in LA and I have appreciated his help while trying in the summer. His understanding of the modern game and creative use of technology helped give perspective to the drills. I think his easy-going demeanor makes talking about goaltending fun and engaging. His personality and his preparation make him a great asset for a goaltender. "
Ryan Miller, Goalie NHL, Vancouver Canacks

"Through Reto, I have learned to make the most difficult situation look simple. He works committed and with a detailed focus on my weaknesses without forgetting to enforce my strengths. Reto completes his skills of on and off ice practices with competent video work, where game and practice situations get diligent analyzed. "
Leonardo Genoni, Goalie NLA (1st division), SC Bern - Switzerland

"Reto was one of the young goalies, who came first to the goalie camp (Ecole International de Hockey de Verbier). Together with Martin Gerber, Jonas Hiller and David Aebischer he was one of the goalies who became a specialist in the butterfly goaltending."
Frédéric Chabot, Minesoto Wild, Goalie & Development Coach

"Reto was an extraordinary ice hockey goalie and decorated athlete as well a specialist in the butterfly style. His unique level of expertise is a rare quality in this sport. Through the years his skills in coaching require not only a deep understanding of the sport and current techniques but also how to instruct another in these areas, how to observe and find the flaws in a client's current form, how to encourage and draw from an athlete their very best work, and how to build the trust necessary to take an athlete to the next level."
Richard Beaulieu, Director of the International Hockey School in Verbier, Switzerland

"Besides his unquestionable professional competence, we highly enjoy Reto's social skills, his reliability and his above average dedication for the team and the participants. Reto is a tremendous asset to our team."
Peter Eggimann, Head of the EA Hockey Camp, Switzerland

"Reto's highly skilled and innovative goalie coaching had a tremendous impact on my career. His training and coaching was directly related to my Performance. Reto's coaching brought my game to the next level."
Marc Eichmann, SC Langenthal, Switzerland

"Reto's knowledge, experience, and passion make him a joy to work with. He offers multiple ways for goalies to approach a situation, and allows them to choose what fits best in heir own game."
Troy Grosnick, Goalie NHL-AHL, San Jose Sharks